Web Design & Development
.
Looking to get designed your business website that help you grow your business? You are at the right place. We are here to help you get your business website designed with modern & responsive layout! All process is done by a professional team.
PixelSols Web Development
.
We're a progressive website design and development agency, provides our services across the globe. Your website is what's standing between you and a potential customer.
A website is the online presence of your business and it improves the credibility of your business. With a website you can promote your product and services, showcase your work, and establish your presence on the Internet.
As a passionate team of professional web designers and developers, we create modern, mobile-friendly and professional websites that provide immersive experiences for their visiters.
Focusing on your needs and latest web design trends, we develop search-optimised, user-focused websites that stand out. 
Premium Resources
From reaching out to the content publishing sites and to add in-content links, we do all the process manually. 

Latest Design Trends
We always focus on quality of content. All guest blog post content is written by a professional writers.
Modern & Responsive
Our quality backlinks building process helps you get more organic traffic and improve search rankings.

Premium Quality Resources
Whether it's publisher or producer, we always focus on quality of content. Guest blog posts are written by the professional writers. We only publish Guest Posts on high quality sites.

Fast & Secure Delivery
We're committed to get published single placement within 15 days. Most of the time last in relevent niche site researh. Once that done, we proceed further get published your blog post.


Setup & Custumization
We add In-Content Powerful Backlinks to get quality backlinks and more organic traffic. Quality backlinks are so powerful to drive organic traffic for conversion and sales.

Search Engine Friendliness
When the guest blog posting is done, a plain English report outlining the work completed with links and overview of vital metrics like DA and DR will be shared with you.
We design websites for everyone
!
Our services are for every individual and business. Because every business needs a website as well as strong social media presence. You can get our services as per your requirements.
Not only we create stunning business websites and Shopify stores but also provide content marketing service for building powerful backlinks from reputable websites and publications.
Backlinking is considered a powerful SEO signal for ranking any website in search results. So we create and publish quality content on relevant high-ranked sites with in-content backlink.
Unfortunately, we don't create websites in the following niches: gambling, dating, adult, pharmacy, firearms or anything illegal/unethical.
For Start-ups
.Get a website for your startup and attract more potential customers to generate leads and sales

For Businesses
Get business web design service, content marketing and social media marketing & account management.

For Companies
Get quality web design service, content marketing and social media marketing & account management.

Web Design Planning: First of all we gather information about your business and determine what the new website needs to fulfill. i.e., what is the purpose you want to achieve through your website. Then we make a list of all the pages you want on your website, layout design sketched out, and content planned.
Design & Development: Once the web design planning process is completed, we start creating your website according to your business needs. We work on WordPress as CMS and use Premium "Divi Theme" and "Envato Themes" to create modern & responsive website. You can easily edit and update your website later on.

Launching Your Website: As soon as we complete the Design & Developmet process, we launch your website to make it live for your customers. Our whole process usually takes up to 2 weeks but we do our best to complete it as soon as possible.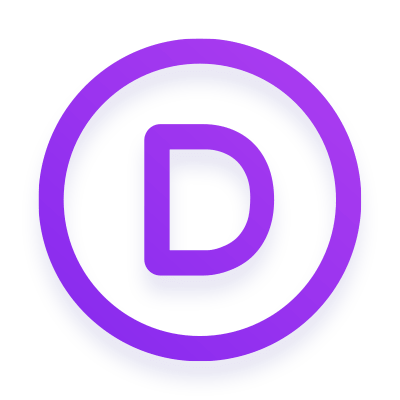 Premium Elegent Theme
Elegant Theme is one of the best premium theme. So In most of the websites, we use Divi Theme Builder. We activate Lifetime Updates licance on your website.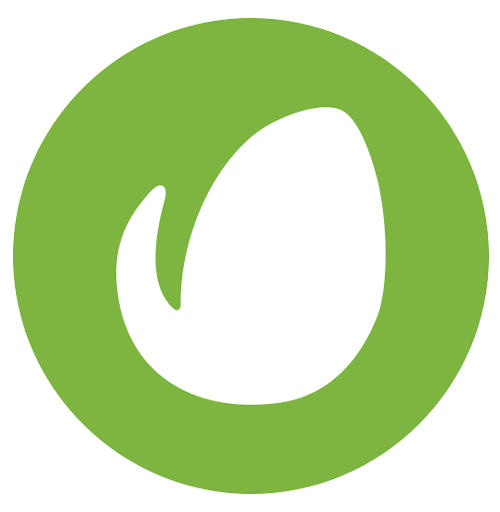 Premium Envato Themes
Envato is the biggest Premium Themes depository. So In specific cases, we use Premium Envato Themes. We only use our purchased genuine themes.
Other Premium Resources
We use all the required premium resources, which can help us to design & create a stunning website
Client Portal for real-time tracking
.
Our client portal is a great way to streamline our working process. You can place & manage your orders using your online dashboard.
At PixelsSols, we're committed to your privacy & security. You can use this Client Portal to communicate with us.
Receive proposals & invoices, check the progress of your projects, upload files to us, retrieve files from us, and much more.
We know about your busy schedule, so leave comments, download content and request revisions directly from your PixelSols account.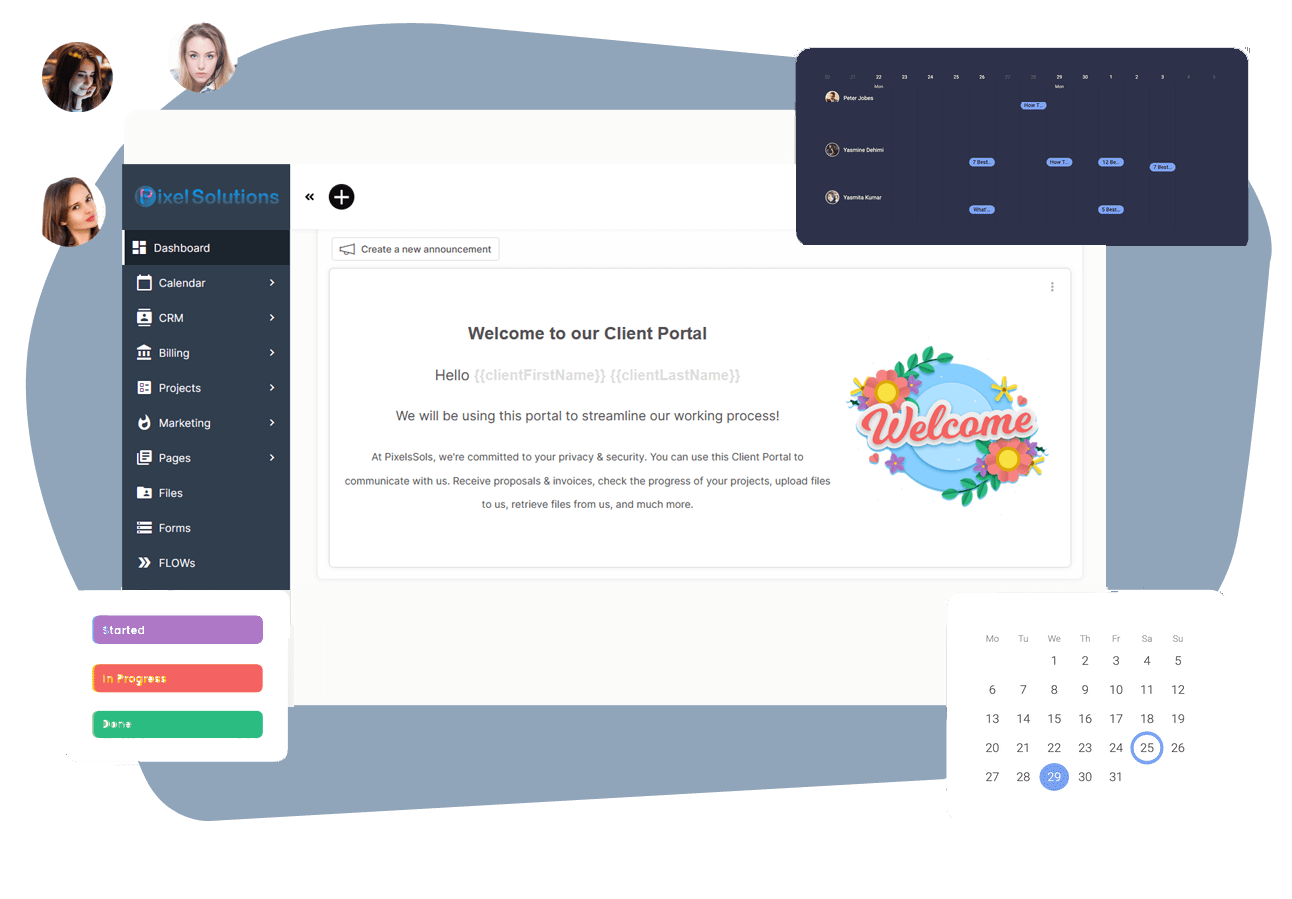 What you need to get started?
You would need a domain name and a hosting account (if you don't have these I will assist you). I will also need your logo, names & no. of pages, a few sentences about your website/company, an email address to configure the form, a few images about your business (I will try to arrange similar ones).
Do you provide Domain & Hosting?
No, we don't but we help & guide you in this regard. Domain and Hosting is your personal property so it's highly recommended that you must purchase it by yourself to have full control over it.
Which web hosting should I purchase?
There are numerous web hosting providers. It depends on you however we recommend you to purchase BlueHost or Hostinger. Both hosting providers are quite user friendly. Check more hosting providers.
How long does it take to develop a website?
Each case is different. But in most cases it takes up to 14 businesses days to deliver. However, turnaround times depend on the complexity of the website, project type, functionality/features required and the number of pages. 
What is your web design process?
The process of building a brand new website is fairly straightforward but may vary on a case-by-case basis. Before starting the project, we'll add you to our project management software so that you can see the timeline, check progress in real-time and leave comments.
Stage 1: Research & Planning
We'll send you a questionnaire to better understand your needs and design preferences. After, we'll discuss your website and functionality requirements in detail.
At this stage, we would ask you to provide the copy you'd like us to use (if you have it ready) and any other visual elements you'd like to be present on the website.
Stage 2: Wire framing & Concept Design
Based on the information above and your design preferences, we'll start by creating a mockup design of the website.
A design mockup is the first step to visualizing the website. While they're usually not as detailed as the final website will be, they give a visual representation of the site's overall layout, structure and colors.
At this stage, you'll receive a PDF visualization of main pages, including a homepage and templates of service and blog pages. This will give you a chance to make design adjustments before we start developing the website.
Stage 3: Development Process
We'll kick off the technical side of the web design process. This involves the actual development of the website, including the creation of templates, setting up analytics, integrating Google Search Console, adding necessary pixels, cookie notifications, and ensuring usability and mobile-friendliness. 
Stage 4: Testing & Optimization
Once our designers have finished their work, the team will get to test your site's performance and usability. We'll use various tools to benchmark your site for loading, responsiveness, and speed, while also ensuring that it works reliably on all web browsers and mobile devices.
Once the testing is carried out, we'll proceed to internal optimization of the website, including:
On-Page SEO
Technical SEO
Performance and speed optimization
Security
Stage 5: Setting Live your  website!
Once you're happy with the website, we'll push it live.
Can I provide you my own content?
Yes, absolutely you can. We highly recommend you to provide us content (Text & Graphics) because you know better about your business than anyone else. Only you know about the mission and vision off your business.
What resources do you use in website?
Primarily, we work with WordPress using premium Themes. In most websites, we use Premium Elegant Theme with lifetime updates license (Divi Page Builder. However, it also depends on your website's requirement so may also use Envato Premium Themes.
Why to choose WordPress CMS?
WordPress is one of the most popular CMS (Content Management System) that can help you manage your website without coding knowledge but drag and drop instead. We can provide a custom tutorial to manage your website more effectively.
Do you provide license for themes and plugins?
No we don't. We do not provide license for premium themes. We activate the license on theme. Please remember that not every theme provides Lifetime updates license. If you want to get regular updates from the theme support you will need to purchase theme license yourself. (In most cases, you'll have to pay a license fee every 6 months to the Theme company).
What type of websites do you create?
We work on most websites types, including affiliate website, blogs, personal brands, brochure websites, one-pagers, service websites, eCommerce stores, systems, membership websites, and many more. 
However, we don't create websites in the following niches: gambling, dating, adult, pharmacy, firearms or anything illegal/unethical.
Do you create responsive web design?
Absolutely yes:) Your website will be 100% responsive across all the devices i.e. Tablets, Mobiles, Desktops and all major Browsers. We test all devices and browsers responsive capability before setting live your website.
How much does a website cost?
Prices vary on a case-by-case basis. This will depend on the complexity and size of the website, functionality, type and services/products offered. However, generally speaking, the average cost of the website is $800 (No extra hidden charges).
Can I give you samples for my website?
Yes, Absolutely you can:) You can provide us links of your favorite websites you like the most. It helps us to understand your choice and make sense to us for latest trends in that niche.
Can I edit my website later on?
Absolutely yes:) With a little practice you will be able to edit/maintain your website by yourself. We can help you in this regard as well:)
Are you reliable web design agency?
Absolutely yes:), because we have been serving our clients for last 7 years. Reliability and trust are very important to us, so you can always contact us through various given contact details on out agency website. If it is important/urgent for the job, you can also make a phone call for instant content.
How do you get paid for your services?
We offer various payment options for our client ease. Generally, we receive payments through "Payoneer", "Crypto" & "Direct Deposits". However, we also use third-party escrow service for payment protections.
Do you provide any payment protection?
Yes, absolutely we do. To gain clients' trust, we create milestones and request a payment once a milestone is completed. However, you can pay us all the amount in advance.
Will my website have a backup?
I'll set and configure an auto backup system on your website. Your website will be backed up in google drive so that it can be recovered in case anything goes wrong on it.
Do you give any money back guarantee?
We strive our best to provide you best services. Web design & development process takes a lot of time so it's not possible to return you money after doing your project. Hope that make sense to you.
Do you provide support after project completion?
Yes, we do. We provide 1 month of free premium support after the project completion. However, you can get in touch with us anytime to ask something about the website.