Social media is the most powerful tool now a day to convey your message to the broad audience. Around half of the world population use different Social Media platforms.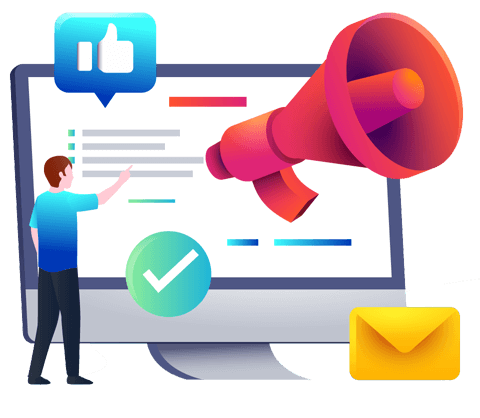 Digital Marketing has been around for many years and is one of the most powerful tools that businesses use to promote their products and services.
Advertising on social media sites has become one of the more common ways that businesses use to reach out to their target audience. It is an effective way of reaching a large number of people at once and has been shown to be an effective way to increase sales.
We are one of the top digital marketing agencies in Islamabad. Let us market your business to the next level through digital marketing.

We are exceptional
From reaching out to the content publishing sites and to add in-content links, we do all the process manually. 
Quality Content Posts
We always focus on quality of content. All social media posts content is written by a professional writers.

Generate more revenue
Our quality content social media posts helps you get more organic traffic and generate more sales.
Can I avail this service
?
Yes, absolutely you can. Digital Marketing is consider a powerful marketing strategy to reach out specific audience.
There are many Social Media campaigns including "Brand Awareness", "Post Engagement", "People's Reach", "Website Visitors" and "Leads Generation".
So If you have a business and want to reach out more audience, then social media marketing fits for you.
For Individuals
Get quality traffic and leads for your business to increase sales and revenue .

For Businesses
All those businesses, which are careful about organic traffic, sales and revenue.

For Start-ups
If you are a start-up and want to grow your business, then SMM can be really helpful.

Facebook Advertisement
We run various types of Ad campaigns on Facebook because Facebook is, in fact, a powerful tool for businesses to promote their products and sell them to customers.
The Facebook ads are no doubt one of the best ways to reach out to a potential customers. Ad campaigns are a great way to drive traffic to your business. Because, nowadays, most people promote their products on social media sites such as Facebook, Twitter, Instagram.These social networks have millions of active users to reach out.
Google Advertisement
We run various types of Ad campaigns on Google because Google is also a powerful tool for businesses to promote their products and sell them to customers.
The Google ads are no doubt one of the best ways to reach out to potential customers. Ad campaigns are a great way to drive traffic to your business. Because, nowadays, most people promote their products on google. Because Google is sthe world's biggest search engine with huge data.
Brand Awareness
We run campaigns to help you increase people's awareness of your business, brand or service. Thus they becomes potential customers.

Post Engagement
We run campaigns for post engagement includes likes, comments and shares but can also include offers claimed from your page.
People's Reach
We run campaigns to help you increase your business reach and show your ad to as many people as possible in your target audience.

Website Traffic
We run campaigns to help you get traffic from Facebook to your website's landing page, a blog post, app etc.
Client Portal for real-time tracking
.
Our client portal is a great way to streamline our working process. You can place & manage your orders using your online dashboard.
At PixelsSols, we're committed to your privacy & security. You can use this Client Portal to communicate with us.
Receive proposals & invoices, check the progress of your projects, upload files to us, retrieve files from us, and much more.
We know about your busy schedule, so leave comments, download content and request revisions directly from your PixelSols account.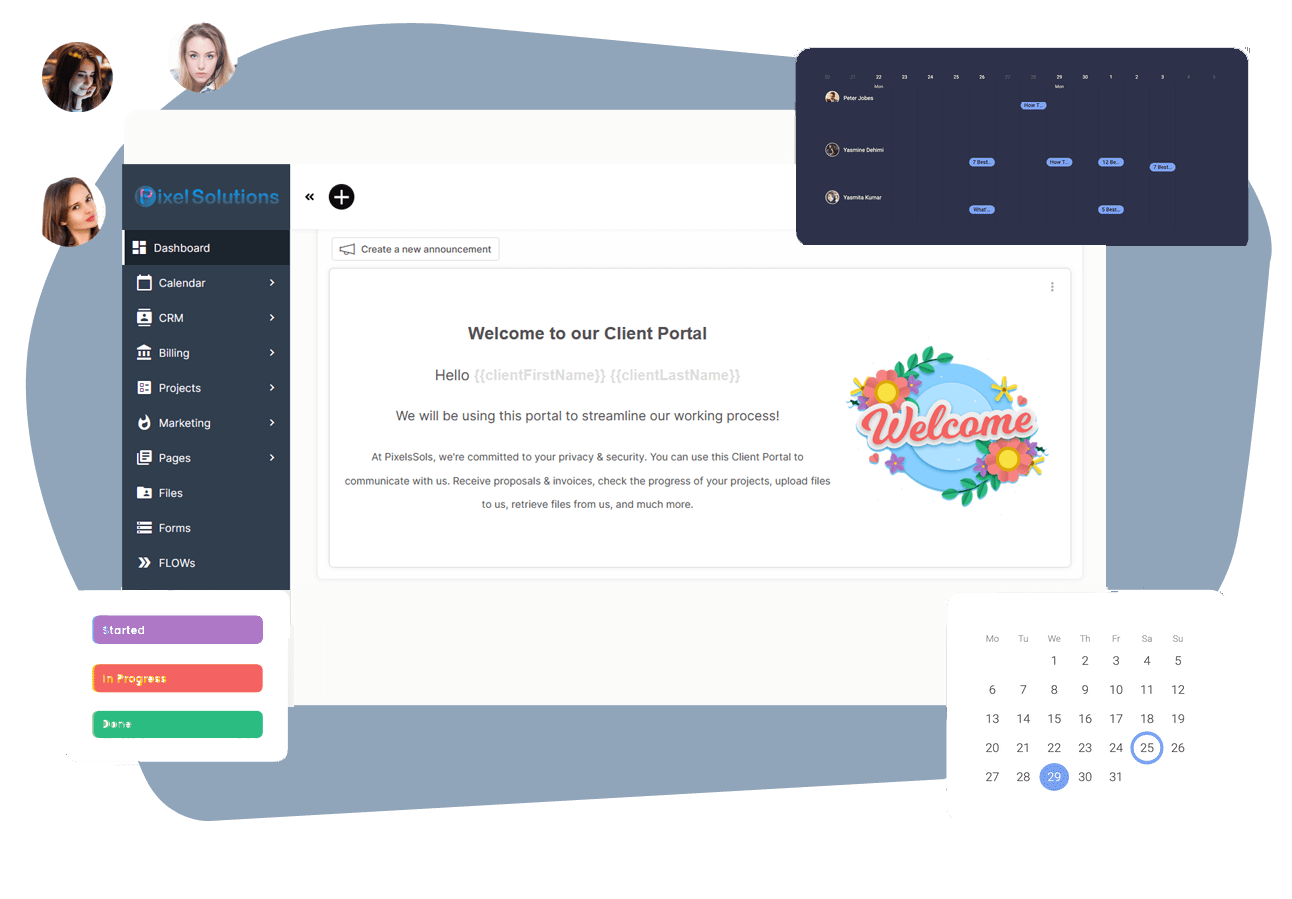 Does my business need a strong social presence?
Yes, absolutely. Your business needs a strong presence to compete with other similar businesses.
What type of Digital Services do you provide?
Definitely Yes. In this digital era, every business needs strong social presence to create credibility and compete with its competitors.
The strong your business's social presence is, the more clients will have trust & satisfaction.
Can I get Services for my Facebook Business Page?
We do our best to create it ASAP. However it also depends on our workload and schedule. It will be between 1 -14 days.
What are dimensions in graphics, you craete?
First, we start by analysing your niche and then we create the graphice according to the size & needs of the social media category.
Why do I need to create posts on Facebook business page?
Every digital platform loves fresh content. To engage with your loyal audience, you must keep updated your Facebook Business page on regular basis.
Active pages with people's reach and engagement plays vital roles in building business credibility and gaining popularity.
Do you provide Content for Facebook Posts?
Yes, we do. We create unique content for Facebook Post/Ads, Google Ads and Product Copywrite content for your Business. We only charge Rs.5 per word for unique copywriting .
Why to get your Digital Marketing Services?
Because we have a practical experience in Digital Marketing to provide leads to any kind of businesses. We only take up the project if we see a good number of potential customers in the targeted areas. That's how you can imagine our seriousness towards your business and concern of our own repute.
Do you create Facebook Ad campaigns?
Yes, absolutely. We create Facebook ad campaigns for the brands. Many are profitable with Facebook ads and expanded their business.
With the right strategy, ads and website/funnel, companies are making huge profits with Facebook ads.
Who pays for the facebook ads campaigns?
You must have a Master/Visa card supporting international payments which will be linked with your Business manager Ad account.
Facebook will directly bill your card. We only charge service charges for creating ad strategy, monitoring and managing it for 30 Days.
How long does it take to create an Ad campaign?
We aim to include at least 1 natural, in-content link back to your website (not bio link). However, we usually manage to gain 2 or more links from a single piece of content. Make sure to vary your anchor text and diversify your target pages.
Do you have any prerequisites for creating Ad Campaigns?
Your Ad account must be in active state and should be warmed up for running Ad Campaigns. We can not run the Ads if your ads account is disabled. Make sure your ads account is working.
We can not guarantee to approve your every Facebook ad especially if they are ads for certain supplements. In our experience, the ads normally gets approved.
Do you run all kinds of Ad Campaigns?
Please Keep in mind that we only run Ad Campaigns which comply with Facebook policies. It's against Facebook's TOS to advertise cryptocurrencies, prescription/illegal drugs, firearms, ammunition, tobacco products & e-cigs, animals, adult services/products, gambling products, loans, MLM products/services, prohibited supplements & deceptive goods/services.
What kind of lead-generation Services we talk about?
Unlike the leads we get through social media, which are auto-filled forms, we rather focus on customers who search for your product or services on google and then engage them on your landing page and get them to talk to your sales rep through one of the there aggressive CTAs.
Do you give any guarantee for the results?
Simply NO because there are so many variables that keep changing, like Facebook & Google crawler algorithm, so no one can guarantee results in digital marketing services.
What we can guarantee is that you will be getting tons of highly relevant leads. To convert those leads into sales is upon you.  It's a 360 Degree process in which 180 Degree part is at our end while the rest is on yours.