Are you looking for a reliable hosting provider that offers top-notch services? Look no further than ChemiCloud! With ChemiCloud, you'll get access to various hosting solutions suitable for everyone, from individual bloggers to large businesses.
What is ChemiCloud Web Hosting?
ChemiCloud is a cloud-based web hosting service. From web hosting to VPS hosting and reseller hosting, ChemiCloud has you covered. With its unbeatable prices, superior customer support, and advanced security measures, ChemiCloud is the perfect hosting provider for all your needs.
ChemiCloud offers a variety of tools and resources to help you create and manage your website, including a website builder and a content management system (CMS). In addition to hosting services, ChemiCloud also offers domain registration, email hosting, and other web-related services.
Pricing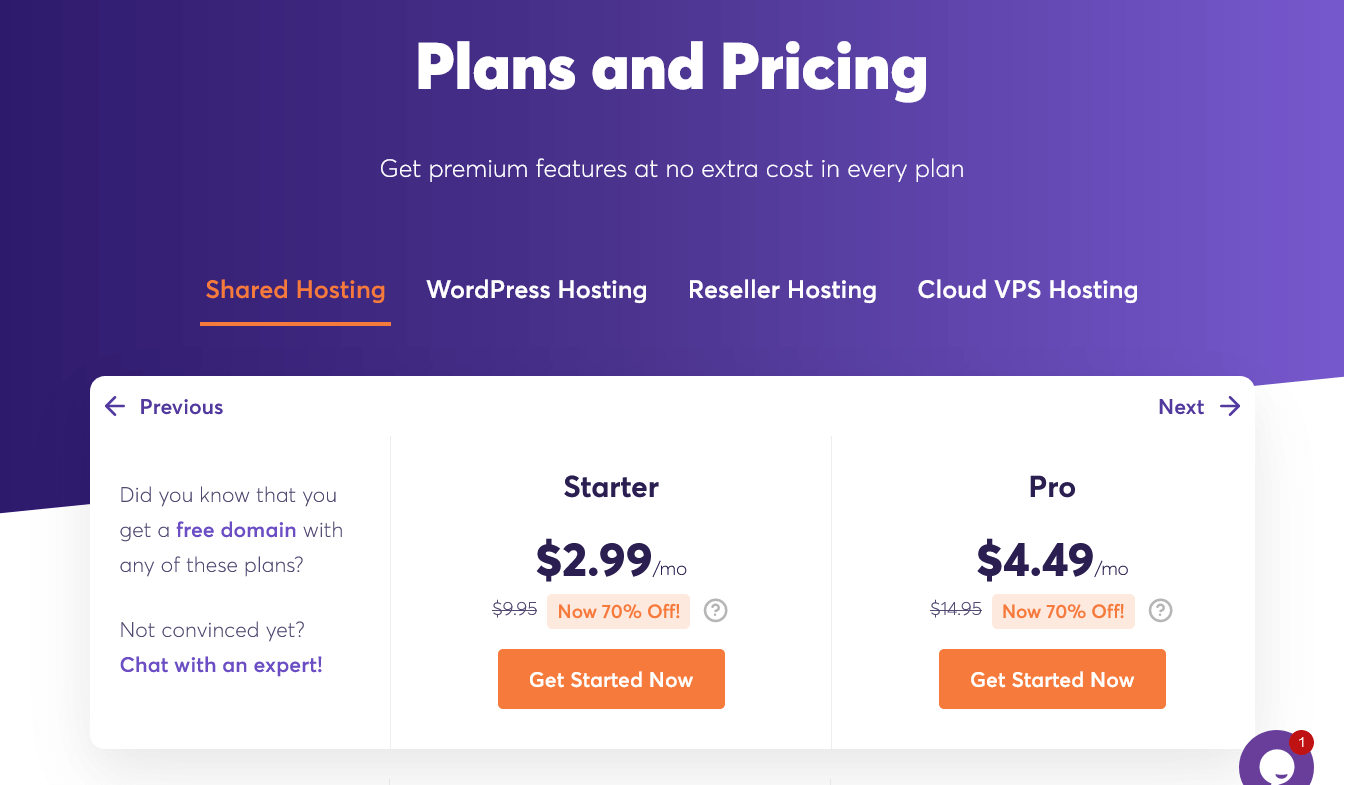 WordPress Starter Price Plan Starts at $2.99/month.  Check All Price Plans.
To create an account with ChemiCloud Web Hosting, follow these steps:
Go to the ChemiCloud website: In your web browser, go to the ChemiCloud website (https://www.chemcloud.com/).
Click on the "Hosting" tab: On the ChemiCloud homepage, click on the "Hosting" tab to see the different hosting plans offered by the company.
Choose a hosting plan: ChemiCloud offers several different hosting plans, including shared hosting, VPS hosting, and dedicated hosting. Choose the plan that best fits your needs.
Choose a domain name: If you don't already have one, you can purchase one through ChemiCloud. Enter your domain name in the "New Domain" field and click "Continue." If you already have a domain name, select the "I Have a Domain Name" option and enter your domain name in the field provided.
Enter your account and billing information: On the next page, you'll be asked to enter your account and billing information. Fill out the form with your personal and payment details.
Review your order and complete the checkout process: Once you have entered your account and billing information, you can review your order and complete the checkout process. Follow the on-screen instructions to complete your purchase.
After completing these steps, you will have created an account with ChemiCloud and can use their web hosting services to host your website.
ChemiCloud provides various tools and resources to help users create and manage their websites. Their customer support team is available to assist with any questions or issues.
By choosing ChemiCloud as your web hosting provider, you can ensure your website runs smoothly for your visitors.
What are the benefits of using ChemiCloud?
ChemiCloud is a web hosting company that offers various hosting plans and services for individuals and businesses. Some of the benefits of using ChemiCloud include:
Reliability: ChemiCloud's hosting plans come with 99.9% uptime guarantees, which means that your website will be available to users most of the time.
Performance: ChemiCloud uses high-quality hardware and infrastructure to ensure your website loads quickly and performs well.
Security: ChemiCloud offers several security features to protect your website and data, including malware scanning, firewall protection, and SSL certificates.
Customer support: ChemiCloud offers 24/7 customer support through live chat, phone, and email, so you can get help whenever needed.
Easy to use: ChemiCloud's hosting plans have an easy-to-use control panel that allows you to manage your hosting account and website from a single dashboard.
Affordable: ChemiCloud offers competitive pricing for its hosting plans, making it an affordable option for individuals and businesses.
Scalability: ChemiCloud's hosting plans are scalable, so you can upgrade or downgrade your plan to meet your website's changing needs.
Free domain: ChemiCloud offers a free domain name with some of its hosting plans, saving you money on domain registration fees.
Money-back guarantee: ChemiCloud offers a 30-day money-back guarantee, so you can try their hosting services risk-free.
Pros & Cons of ChemiCloud Web Hosting
ChemiCloud is one of the best web hosting services. However, it has many Pros and Cons: Here are some of them.
Pros:
Free domain name.
Multiple Datacenters across the globe.
Free SSL Certificate (HTTPS).
Free Cloudflare CDN Integration.
Super intuitive and easy-to-use website builder.
Free website migration service with no downtime.
45-day worry-free Money-Back Guarantee.
Softaculous integration makes app installation super easy.
Offers best customizations in terms of accessibility in the Control Panel.
Cons:
It has no monthly billing option. (Yearly option is beneficial if you are looking from a financial perspective)
If you are on a budget, then choose their entry-level plans i.e.
Web Hosting Starter or WordPress Starter, you only have a two or 3-year billing option.
If you want a 1-year billing cycle, look at other plans, i.e., Pro and Turbo.
Thanks for reading our blog post on ChemiCloud! We hope you've enjoyed the insights we've shared and the tips we've given. We're sure you now understand better how ChemiCloud can help you and your business succeed. By using ChemiCloud for your web hosting needs, you can take advantage of these benefits and have a reliable, secure, and easy-to-use hosting solution for your website.